Distinction Travel: Washington D.C. more than the National Mall
Long the destination of school field trips and historic tours, D.C. is now a place of art, music, food and surprise.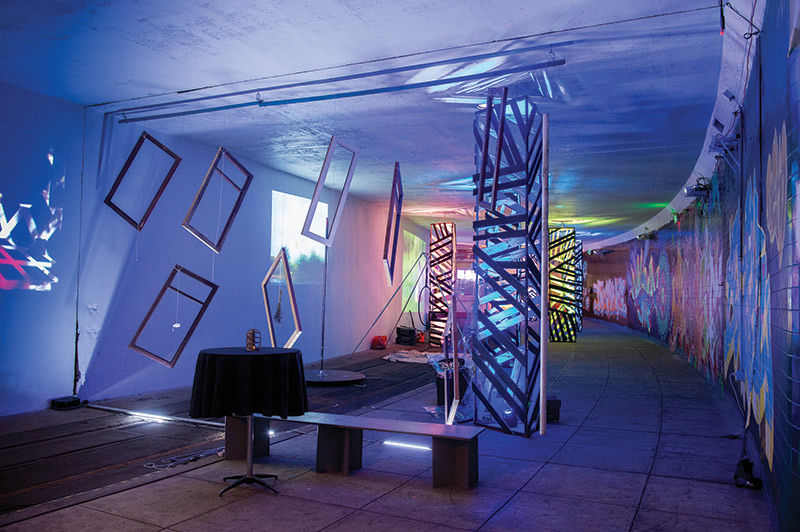 Photo credit: Mike Morgan
WASHINGTON | There is no music, yet people are dancing, some in sync and others not, their headphones lit up red or purple, blue or yellow, as they tune in to any of four songs being played simultaneously by the deejay.
Two people begin the familiar steps of the electric slide, and some guests who were grinding to hip-hop or spinning to disco poke a button on their headset and join the line. Some dance alone, looking down at the lights of the city or the reflection of the moon in the rooftop pool. Some slip off their headphones and hold a conversation without shouting.
It's silent disco, here on the rooftop of The Embassy Row Hotel in Dupont Circle, a fashionable residential district long a bastion for gay culture and people looking for the cool and funky. The funkiness has given way to gentrification, and now 14th Street, which spokes off the Circle, is known as Restaurant Row, with 60 or more spots serving a panoply of treats that reflect the neighborhood's cultural mix.
The hotel, which gets its name from the embassies in the area, has leaned into the changing nature of the community.
On warm mornings, and some sunsets, there is yoga up on the rooftop. There's Splash Cycle, a spin class with the bikes submerged in the pool, and afternoon "paint and pinot," a guided painting class paired with wine. In the basement is the adult playground, the graffitied walls surrounding tables for foosball and air hockey and pingpong. There's a human-sized pair of Colette Miller angel wings painted on the outdoor wall, a perfect opportunity to click and post to Instagram. See, Mom! I told you I'm an angel! A drag queen in perfect makeup poses there, as locals stream by with their NPR tote bags bulging with flowers and fruit and fresh greens from the corner farmers market.
This is not the D.C. of your middle school field trip. The space shuttle and petrified dinosaur bones and Dorothy's ruby slippers are still here, four Metro stops away, but D.C. is not just the National Mall. It is a city of artful innovation, of architecture and music and food, much of it surprising. The Embassy Row Hotel is the perfect location, whether you want easy access to the Smithsonian or a launching pad to the new and unusual.
Peer down from the hotel's rooftop, over European-styled houses topped with tile and slate, and you can almost see the entry to the Dupont Underground, a long-abandoned trolley station turned into an art gallery and performance space. The stop opened in 1949, the only underground trolley station in the city, and closed in 1962, in anticipation of the modern subway system.
It was used in the '60s as a fallout shelter, but then was again abandoned. But its bones are solid and its acoustics exceptional, so in the past few years it has been transformed into a space where the cool gather, their clicking heels echoing through the 15,000 square feet of tiled tunnel. Music caroms around curves and corners as visitors gape at everything from the vibrant tagging (the space's first art) to human-sized photos of sea turtles and flowers frozen midbloom, of children cavorting and the perfect turn of a woman's thigh.
Ricochet yourself in time and art form from there to the Anderson House, home of the Society of the Cincinnati, established at the beginning of our national history to honor the memory of the American Revolution. The society is open to men directly descended from a Revolutionary officer, but the home is open to the public at no charge.
The palace-like building drips with crystal and tapestry, the door frames foot-thick marble, the space ornate and overwrought and over-carved and ostentatious and gloriously, gorgeously, too much.
Visiting is like bingeing on wedding cake, and it must be offset with a quick walk to the Barbie Pond on Avenue Q, which is more on the pickle edge of the palate with its capriciously rotating dioramas of mostly topless Barbies and gender-bending Kens dressed for Easter with bunny heads or Easter egg bodies, or re-enacting a scene from the day's news.
The person who curates and rearranges, who dresses and undresses and poses and positions, chooses to remain under the radar, but come back in another season and the scene will be of Barbie bodies painted St. Paddy's green and Kens wearing nothing but shamrocks or strategically placed gourds, or Halloween skeletons with Barbie heads alongside Barbie bodies with Ken heads.
A quick Metro or Lyft ride takes you to Artechouse, where a cheery Eastern European in a poodle skirt and Keds explains that the shows here are interactive, a melding of art and technology – thus the name. Today, electronic images of whimsical fall leaves crayoned by customers swirl over the gallery's walls. When a visitor dances, a corresponding body of leaves moves in parallel. A real person kicks and electronic leaves scatter. Clap in this corner and create a computerized rain shower; clap in that one and you bring on lightning and thunder. The soundtrack is of laughter and the percussion of hand meeting hand, followed by a rumble of thunder. Here the art is ephemeral, and next month it will be something yet unimagined.
Another quick ride and you're at Blind Whino, an abandoned Victorian and Romanesque-style church built in 1886 and painted now with swashes of pink and purple and green, plus black dots over bright blue. It is a flash of color, a landmark unmissable in a gray and crumbling sector of Southwest D.C.
Inside is art space, today elevating the contributions of women artists, too often ignored in standard museums, but tomorrow open to someone else's ideas. It's a space for weddings and concerts, for booze-soaked parties and quiet meditation. There's a garden onsite that feeds neighbors in need, free yoga, an exchange of odd ideas. This is D.C. becoming, evolving, making room for fresh.
There are other remakings, including Succotash, a restaurant that crosses Korea with Kentucky, set in a long-abandoned bank that has been restored to its Corinthean-columned glory. The restaurant's iron-ribbed skylight is close enough to touch from the mezzanine seating, the mahogany balustrade reminiscent of the frightening bank scene in Mary Poppins. There, guests can enjoy collards and catfish, beignets and hummingbird truffles, all awash in the chatter of the hip, the people trendy enough to know of this place and its blackened octopus and its Moonshine Mule with its Belle Isle hooch and its mist of absinthe.
D.C. is a place to go and do, to follow the flavor trends, to see the art in the fresh new spaces but also in the highfalutin edifices of marble and maintenance. But there will come a point where exhaustion hits, where the coolest thing is the simplest thing, to take a picnic to the park. The hotel will make one for you, or you can cruise to Eastern Market on the Metro and pack your own, with empanadas and pastries, the freshest of fried seafood, plus kimchi and beer and wine and lemonade.
Or head to the Union Market, a converted warehouse space near Gallaudet with counters selling shrimp banh mi and Japanese sweets carved into lotus flowers, Korean tacos and tiramisu. Try one of each. Go ahead. Why else are you here?
There is time tomorrow for more walking, more ogling, more moments spent at a streetside table watching the parade of people. D.C. is a city where you can relish the traditional and expected, the curated and well cared for. But it's also a city where it's possible to be surprised. Very, very surprised.
BE SURE TO:
Stay at The Embassy Row Hotel – Convenient to Embassy Row, Restaurant Row, the Metro for quick zips to the National Mall, plus museums and night spots. The trendy décor of clustered conversational groupings, artfully grafittied walls and spare, clean guest rooms adds to the coolness factor. 2015 Massachusetts Avenue, NW. Dupont Circle. 202.265.1600.
Visit Artechouse – D.C.'s first interactive digital art gallery showcases experiential and immersive large-scale art installations. In other words, the art responds to you as you respond to the art. 1238 Maryland Avenue, SW. Smithsonian Metro. tickets@artechouse.com.
Experience the Anderson House – The Society of the Cincinnati's Florentine villa drips with opulence. It's hard not to wander with mouth agape. 2118 Massachusetts Avenue, NW. Dupont Circle. 202.785.2840.
Eat at Succotash – Chef Ed Lee's Korean-American South restaurant, in a renovated bank, offers a menu that includes ribs and catfish, and buttermilk biscuits, all with a slight Korean twist. 915 F Street, NW. Gallery Place-Chinatown Metro. 202.849.6933.
Grab a drink and a bite at Station Kitchen & Cocktails – The hotel's own restaurant, boisterous and busy, offers upscale bar food with names like Street Tacos and Damn Good Shrimp. 2015 Massachusetts Avenue, NW. Dupont Circle. 202.265.1600.