In Chatham's vines, centuries of tradition come together.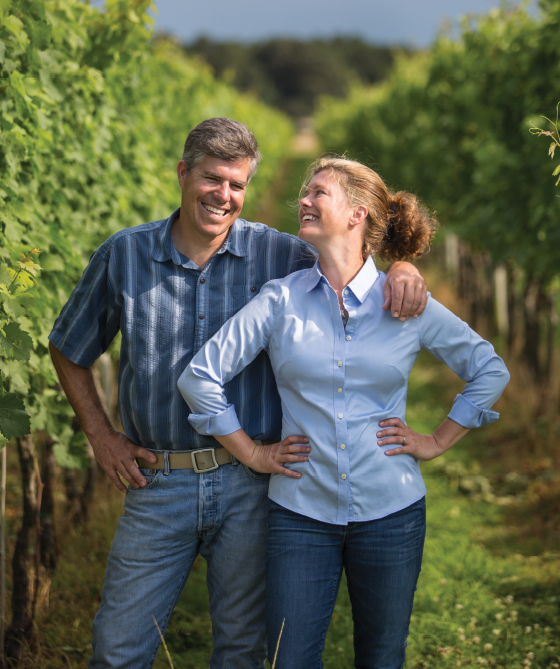 There is a minerality to these Eastern Shore wines, a hint of slate and granite and the shells of creatures tossed ashore by the long-ago meteor that cratered out the Chesapeake Bay and scrambled the soil.
There is salinity – from the wind or the Bay or the ocean just 6 miles away – drawn into roots and up vines thick as thighs to carefully shaded clusters of fruit, and from there squeezed and aged and stoppered into bottles.
Jon Wehner laid out the first five acres of the vineyard at Chatham Farms in 1999, standing on the back of a tractor to drive in each post by hand. He laid the rows out true north, 7 feet apart, so in the height of summer the shade from the first barely misses the second.
Fifteen thousand posts he's driven in the years since, the fruiting wires tight as harp strings. Twenty acres covered with 32,000 vines, heavy with grapes – chardonnay, merlot, cabernet franc, cabernet sauvignon, petit verdot, the root stocks French and California clones, no bigger than twigs when first planted.
Jon's own roots here burrow deep. He knows the soil and the stock and where the wild turkeys roost. He knows the best place to collect oysters in Church Creek, the inspiration for the name of his wine. He is the steward of this land, and it is his sweat as much as the soil that makes these wines.
He has been coming here since 1979, when his parents were lured from Northern Virginia by an ad in The Wall Street Journal offering an 1818 Federalist fixer-upper for sale, its Palladian window overlooking the creek, where British and Dutch ships once docked at a long pier to load up on tobacco.
The farm was patented in 1640, just shy of 300 acres on a neck jutting west into Chesapeake Bay, bordered on the north by Church Creek and on the south by Hungars Creek. It is good land, land that has grown corn and cotton and sometimes tobacco.
Before the crash in 1929, incomes on the Shore were among the highest per capita in the country. By 1979, though, the ceilings of the grand house were falling in. The plaster-and-lathe walls were crumbling, mortar had abandoned bricks, paint and wallpaper peeled off in sheets.
Jon's parents bought it anyway, and nearly every Friday afternoon they loaded three boys and a black Lab named Winston into the buckskin-colored Malibu Classic station wagon – the third seat facing nauseatingly backward – and drove through the Beltway congestion to the Shore.
"We'd get here at midnight, and the first impression would be the stars," Jon says. "Then in the morning I'd wake up and the landscape would look totally different, depending on whether it was plowed or what was planted – cotton, wheat, rye, soybeans, string beans. Then when you're here in the fall the migratory birds, the migratory fish, it was never the same thing, and you can't help but be in tune with the seasons."
Those seasons now shape his life. In the winter and early spring Jon and his crew walk the fields, pruning off 90 percent of each vine's growth, selecting two shoots per vine to train along the fruiting wire. They're looking for 16 buds per vine, each of which will become a shoot that will give out one or two clusters of fruit. As other shoots sprout the workers train them straight up, through the catch wires, where the leaves are dried by the wind and offered up to the sun.
All summer they tend the vines as grapes tight as BBs grow and fatten, pruning away leaves on the east side of each cluster of reds so that the fruit is exposed to the sun, but leaving those on the west to shade the grapes from the afternoon light.
It is a well thought-out, scientific approach, on land where the family once camped, sleeping in a tent and eating out of a cooler. Over time they repaired the electricity and plumbing and moved inside. Jon was 9, his brothers were 12 and 15. They sacrificed sports and girlfriends and high school dances to scrape and paint and plant. They restored a dairy barn from the 1800s, hay barns and sheds for stallions and for sorting potatoes. They found remnants of a smokehouse and an icehouse.
"The fields were big, the water was big, there was fishing and water skiing and a lot of hard work, but we were all together as a family," Jon says. "It was an exciting time for a boy."
Jon went to James Madison University, where he met Mills Perrine, the daughter of an Army officer. She'd never even heard of the Eastern Shore. They both found jobs in Washington, and began to date. The first time he brought her to Chatham was a Fourth of July weekend. There were friends and family and the annual boat trip to the barrier islands for a picnic of fried chicken, deviled eggs and brownies – a ritual still.
They came back in the fall for October sunsets, fresh roasted pecans and rockfish running in Church Creek. The more often they came, the harder it was to return to D.C. Some weekends they would wait until the pre-dawn hours of Monday to start the drive. Mills fell in love with the land and with the nights thick with stars, the broad expanses of water on either side keeping light pollution to a minimum.
In 1999 they left their jobs and their friends and easy access to city things, and made the leap. Jon considered aquaculture or running a nursery, but his family had been growing wine grapes for 45 years, starting in the 1970s with an experimental vineyard in the rolling hills at Great Falls, Virginia.
"I had a great job, earning a good living," he says. "I could see where the next 30 or 40 years were going. It would have been a great life, but it just didn't inspire me."
He and Mills moved into a sprawling yellow farmhouse next to Chatham itself. It was built in the early 1900s for a son of the Scott family, which once ran one of the largest independent farming operations in Northampton County.
Mills, now 44, was happy to put down roots after the many moves of her childhood. The burgeoning Internet gave her access to shopping and easy communication with friends. "And Jon was nice enough to say that if you really don't like it we can pull up those first 8,000 vines and go back to D.C.," she says, and laughs.
They got married at Hungars Cure Parish. Family and friends traveled from Washington and Philadelphia and New York and filled up the Shore's few motels. The reception was at Chatham.
Mills, who has a degree in art history and French and a master's degree in museum studies, found a job as the first professional curator with the Eastern Shore of Virginia Historical Society. She dug deep into the area's history while Jon managed the vineyard.
His plan was to be a grape farmer, supplying fruit to other wine makers. He signed contracts with Barboursville and Naked Mountain, and in 2001 he trucked out 30 tons. By 2002 he was sending out 70, but he worried about spring frosts killing his buds, and about hurricanes and storms interrupting harvests. The risk was enormous; it was time to diversify. So in 2005 he and Mills made yet another leap and began producing their own wine.
"I realized the quality of the grapes and the potential for wine from the Eastern Shore," Jon, now 44, says. "For years I would watch the farmers plow the fields and see white specks, and I realized it's oyster shell. That's what people love about wine. It's organic, it's not distilled, so you have all of this stuff going on that's impacted by the environment – the soil, the sun, the wind, the ocean, the Bay."
Jon's fields are planted European style, with more than twice as many vines per acre as most American vineyards but fewer clusters of grapes per vine, designed for better color and concentration and higher sugar content. For his reds he aims for 3 tons of grapes per acre; for his whites he manages for 5, pruning away even more foliage, letting them grow slowly so they become more acidic.
Finally in late summer there is the beauty of véraison, the time when grapes turn color one by one, the acids converting to sugar, Jon watching for a week, 10 days, choosing when to pick. Some years he's pushed by an impending hurricane or nor'easter, some years he takes his time, picking in shifts, so the early haul gives him more fruitiness and acidity and the later gives him more tannins.
All the time Jon is tasting and taking notes, not blending batches in his mind yet but coming to know his ingredients, just as he knows his fields and which root stock gives him which flavors. His earliest vines are aging, he knows that.
"But grapevines are a lot like people," he says. "As they get older they start to have some health issues, but they also get wiser. They may not be as productive, but the quality tends to be very good."
The chardonnay ripens first, and so in the first week of September the crew walks between the lines, hand clipping each cluster, loading the grapes into refrigerated trucks until it's time to tumble them into the press, stems and all, for the first light press, the free-running juice sweet and fruity. This is pumped into one of Jon's 1,500-gallon steel tanks, where it ferments slowly into the clean, acidic steel tank chardonnay that pairs so well with the area's oysters.
Next comes a heavier press, which brings more tannin from the skin and seeds and inner pulp. This juice goes into toasted oak barrels, which will mellow it and give it a richer feel in the mouth.
Jon pays attention to all of this, taking notes, lying awake thinking about it. His city friends watch The Weather Channel and call to check in when they see a storm. Most of a month later he harvests the reds, loading them into a tumbler with stainless steel fingers that pull off stems and barely slit the berries before they are dumped whole into the fermenter, 5 tons of berries, where they sit for two days at 40 degrees before he bleeds off the first light juice, an ingredient that gives him floral aromatics. The rest he lets sit, two weeks, three, the skins and pulp rising in a cap and being pushed back down, becoming more concentrated in both flavor and color. This juice he divides among French oak barrels, each one marked with the wine it held the year before.
In a hot year the fruit will be extra ripe and he'll extract a lot of tannin and flavor. In a cool year the juice will be fruitier. The grapes are an ingredient; so are the various oaks.
Chatham_3
Jon, with son William continuing his father's work, in fields planted European-style – fewer vines, more grapes per acre.
"I try not to figure out what the wine will be during harvest or crush; I just make it and let it be," he says. "I'm thinking I need blending tools; this tank has great color, big tannins. I need something with a nice oak to hold up to it. If I get something that's really nice fruit, nice flavor but lighter tannins, I'm careful not to over-oak it, so I'll put it in more neutral barrels."
He'll return to his notes.
"I keep everything separate, but then at the end I have these blending components, and months later I come back tasting and start thinking about the kind of wine it will be."
He thinks about it as he and his family fish and tromp and run around in the sun. He recalls being out in the woods with one of his sons, who was trying to figure out where the wild turkeys were roosting. They came out of the trees just as the blood moon rose over the fields. It was orange and red and huge, the biggest moon either had ever seen. Father and son sat in the field in the complete darkness, just looking at it. Within minutes it was all the way up and had shrunk to the size of a normal moon, and if they had been anywhere else they probably would have missed it.
There are three children now. Plus the fields, the farmhouse, and Chatham itself. His mother lives there still. His father died in 2013. There are kayaking tours that pull up on Chatham's beach, the trips arranged by SouthEast Expeditions that launch from Bayford, one of the last oyster houses on the Eastern Shore, and run along a couple miles of protected pristine shoreline.
"This is one of the few wineries you can kayak to and eat oysters that were farmed within a couple hundred yards of the vineyard," Jon says.
He and Mills are ambassadors for the Eastern Shore – touting the quaintness of Cape Charles and Onancock, the pairings of oyster and wine. They know that the seaside oysters are saltier than those from the Bay and thus pair perfectly with the 2012 steel tank chardonnay, or perhaps the 2014. The Hog Island oysters pair perfectly with the 2013, a big wine, Jon calls it, with a lot of mouth feel, a lot of richness. Each wine is a blend of grape and time and perhaps oak. Each is a product of Jon's palate.
"It's not like I'm buying grapes from a vineyard I don't know or I went to see one time in July," he says. "I watch these babies every day. It's sort of like how your kid's doing at school; you follow them and understand them, so you know what's going on with them. By the time the grapes are harvested I could pretty much tell you the chemistry, the flavor profile. I've been tasting them in the vineyard, I've been tasting them from the barrel."
And then comes the bottling. Three frantic days, about 700 cases per tank, the last step toward a year's worth of wine.
"It's stressful, because it's the last time you get to touch that wine. The cork just went into my wine and it's done. That's it. And you think, 'Well, I did everything I could and I feel pretty good about it.' Then you start thinking about the grapes in the vineyard and start all over again."
Originally published in DISTINCTION, August 15, 2015